Underwater by Marisa Reichardt | Review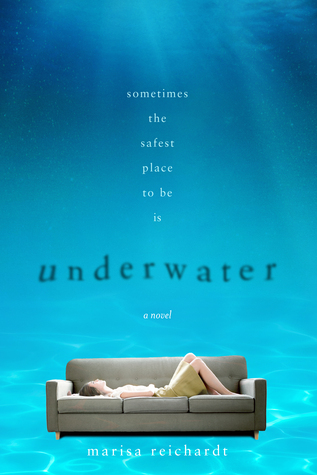 I'm always a big fan of books that are fast paced and have a lot going on. Underwater is not one of those books but it's got a lot of other things going for it. Marisa Reichardt's writing is phenomenal. It seemed a little wordy at first but once I got reading, I saw how it made everything come together. The writing style just worked for this story. Marisa Reichardt's writing managed to capture exactly how Morgan felt after the school shooting and convey them perfectly for readers. It took very little time for me to feel like I could understand exactly what Morgan was going through and how she was feeling. It takes real talent to make that happen in such a short period of time.
To some, Underwater might seem a little slow and a little lacking in action. I did mention earlier that that is normally what draws me too a book but I didn't mind the pace or the lack of action in Underwater. There was some mystery (not much) which did keep my interest piqued but it was the characters that really kept me reading this one. Like I said earlier, I felt emotionally connected to Morgan from the start so I never once considered putting Underwater down because of it's pace. I do think it's a good thing to know going in though that Underwater is not necessarily a book you are going to be able to power through and read in an hour or two. Take your time with this one. It's worth it.
I also really loved all the family dynamics in Underwater. Morgan lived with her mom and little brother and they were all very close. Her mom was extremely understanding about Morgan's condition and her little brother was adorable. Evan was also very close to his mom and aunt. There wasn't a ton of interaction shown between them but it was easy to see how they cared for each other and helped each other out.
Overall, Underwater is a fantastic debut that I can't help but recommend. I look forward to seeing what Marisa Reichardt does next.
There are a lot of upcoming books in 2017. What should I review next?